Welcome
Fort Worth & Dallas Wedding DJs & Event Décor Lighting
It's Your Night entertainment is an upscale Dallas & Fort Worth based wedding DJ and event lighting company that serves DFW and the surrounding area.  We are honored to be on preferred vendor lists at some of the top wedding venues in the Dallas and Fort Worth area.
Our "non-cheesy" approach and passion for helping create one-of-a-kind events by matching the personalities and tastes of couples in the Dallas area have put us on the wish list of brides planning their big day! Our goal is to engage guests without playing the typical cliché songs and embarrassing couples or guests so they end up staying until the very end.
We provide not only professional Dallas wedding DJ entertainment but also décor lighting for weddings in the Dallas & Fort Worth area.  Our event décor lighting such as floral pin-spots, room washes with uplighting, and custom monogram gobos can really customize the look of your wedding and make it look truly unique.  Our lighting design has also been featured in several Dallas wedding publications as well as some national ones.  We can totally transform the look of the beautiful wedding venues in the Dallas area by just adding some of our wedding lighting effects.
As a Fort Worth & Dallas Wedding DJ company we're here to make sure your wedding reception turns out just the way you want it! From the planning to the coordination to the music, we will make sure everything is carefully planned down to the very last detail.
Feel free to contact us with any questions or to see if we're still available on your date!  Spring and Fall wedding dates usually fill up quickly for our Dallas wedding DJ & Emcee packages.
Awards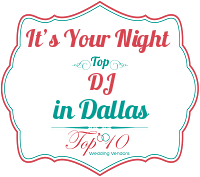 We are so proud of these awards we've received for our work as an upscale Fort Worth and Dallas Wedding DJ company.  In addition to these awards be sure to check out our Dallas DJ reviews on WeddingWire and the Knot.